Millions of generation Z Americans (born after 1996) will be able to vote for the first time in 2020 election
Historically, the youngest eligible voters have the lowest voter turnout of any age group.
But for the first time, Gen Z will surpass the Silent Generation's share of the electorate.
Generation Z, "a Post-Millennial" generation is already the most racially and ethnically diverse generation.
Almost 25% of Gen Z's are Hispanic origin.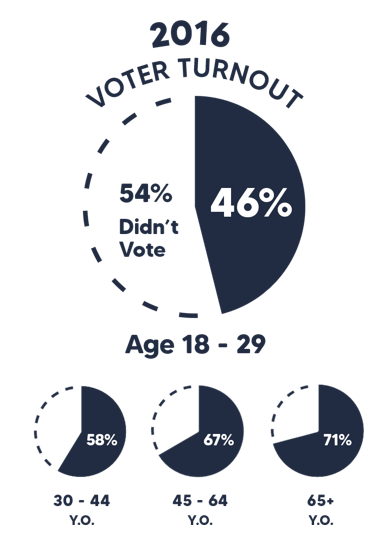 This year, Gen-Z will make up 1/10th of the electorate – That's over 24 million voters!
What issues do Young Voters care about?
Conclusion: COVID-19 pandemic has not only impacted older groups. The issues of "Re-opening the Economy" vs "Saving Lives" may translate into increased young voter turnout this year. This could make huge difference in battleground states.
Gen Z's are most technology savvy and digitally active generation, target these First Time Voters through their emails, cell or online audience options.
Historically their turnout is lowest among other age group, makes them obvious audience for "Register to Vote" and "Go to Vote" campaigns.