With 2018 behind us and our data analysis of 2018 home sales completed, the big question is where is the market heading for Real Estate Investors in 2019? We must always look to the past to predict the future, but before we dive in, check out what other Industry Insiders have to say about 2018's home-selling trends.
According to Attom data, homes flipped in Q3 of 2018 had an average profit of $63,000, down from 2017 in which the average home flipping profit was $68,000. Homes flipped in Q3 of 2018 represented 5% of all single-family homes and condos, down from the 5.9% home-flipping rate we saw in 2017.
With declining numbers and other market factors impacting REI folks, you need more targeted strategies to find your next home seller. So how do you make your lead generation efficient and get the best ROI for your marketing dollars? Here we try to find the answer through BIG Data and Predictive analysis…
We analyzed the data from all of Florida's home sales in 2018 and enhanced them with demographics and behavioral data to gauge the overall trends. Absentee (out of state) owners and vacant owners are typically hot sellers and in 2018 this was no exception, but we did find some not-so-obvious trends which we are sharing here to arm you the real-estate investor with the knowledge to capitalize on these trends in 2019. Read on.
Let's start with the big picture: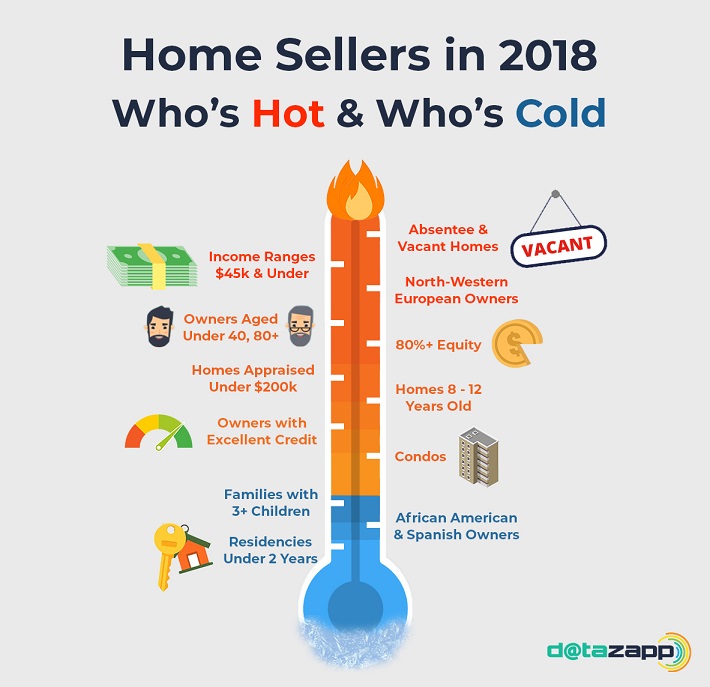 Age Factor : Absentee and vacant homes were the hottest sellers in Florida last year, but we found an inverse bell-curve of home sales across the owners' age. Homeowners from their twenties to age forty showed high market penetration, as well as homeowners aged eighty and older, while those between these age ranges showed less or average home-selling activity.
Home Pricing & Age of Home: Cheaper houses appraised under $200k outsold more expensive houses, and homes that were about a decade old were much hotter sellers than homes built within past 4-5 years.
Equity : Homes with 80 to 100% equity were placed on the market much more frequently than those with less equity.
Ethnicity : There were also home-selling trends that REI's should not ignore among people from different ethnic backgrounds. Home-selling trends among ethnic groups can highlight cultural factors that influence the home-buying and home-selling process of those members.
If a certain ethnic group owns 15% of the homes in Florida, you would expect that group to make up 15% of Florida's home sales last year right? Theoretically, but it's not what the data shows.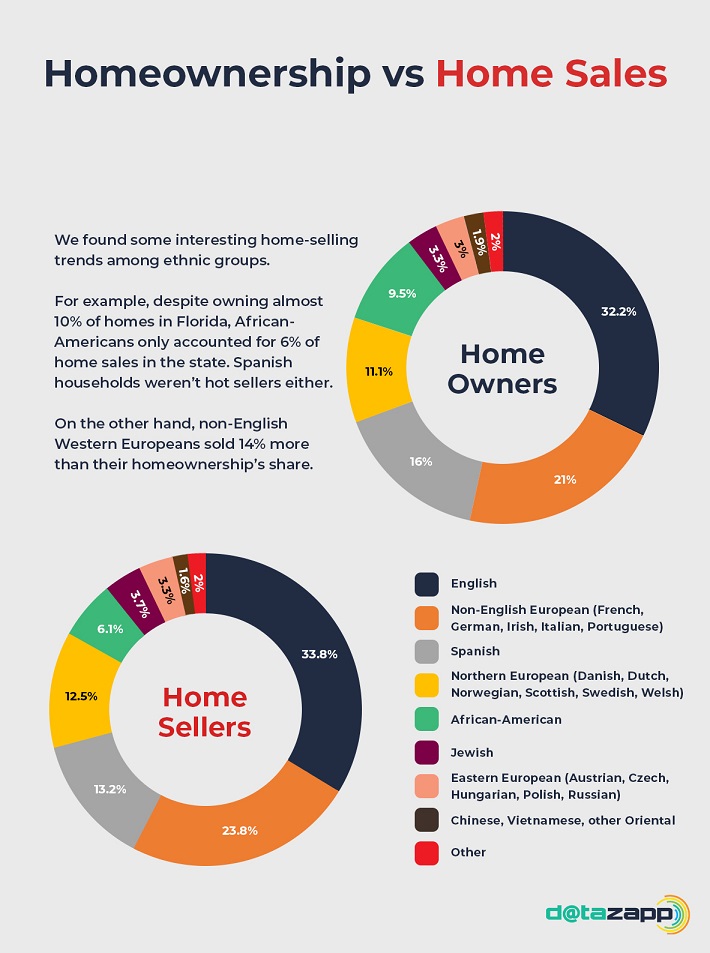 The starkest contrast between homes owned and homes sold in 2018 belonged to African Americans, followed by Spanish Americans. Both groups had disproportionately low home sales as compared to their overall homeownership in Florida last year.
Here you can visualize the disparities between homeownership rates among ethnicities, and their home sales last year.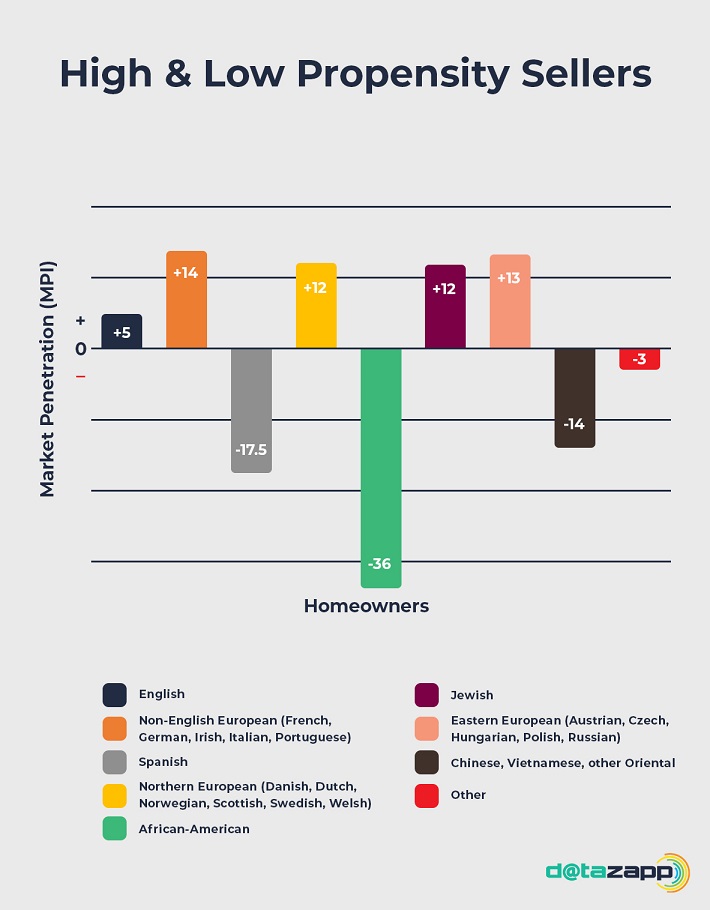 For all four groups of homeowners with European backgrounds, their rate of home sales outpaced their homeownership rates in Florida. Eastern Europeans sold 13% more homes than their market share last year!
Knowing these trends should guide your marketing tactics because this year could prove similar to 2018.
Conclusion :
How do you translate these trends to your advantage? The answer is intelligent farming! Don't knock on every door, instead select targeted ones. Data experts at Datazapp.com recommend targeting high value motivated sellers like absentee owners, vacant, distress, pre-foreclosure etc., just know that you are competing against many other players and there is limited data on these homes.
Try targeting homeowners under 45 years old with home values of $300k or less, and homes 10 years or older. You could seek homeowners with Western European or Jewish backgrounds to narrow your market down further. Test, test, and test again. Measure your results, and tweak your strategy if needed and repeat. Keep in mind; never over-target or limit your audience to a microscopic level. Be persistent and you'll find your best lead generation formula.
Author : Nirav Patel Founder-Datazapp.com, helping and solving marketing problems through data. He helps Real Estate Investors boost their business through technology and data.
Credits :
Robert Carroll
Datazapp Team
Attom Data Insight