In many cases, the process of finding real estate investment leads which turn into deals is like panning for gold, the wider the filter you use the more golden deals you can expect to catch.
As many real estate investors know, finding leads is a numbers game, and buying property data with a broad or blanket targeting approach can get you a bigger list with more leads ready to be found.
What is a Blanket Property List?
A blanket property list is any large list of property and homeowner records in your market created using limited targeting. They aren't necessarily full of people who have expressed motivation to sell their property but the blanket list strategy is to broadcast your pitch to a large number of homeowners to uncover those interested in selling their home, and letting them respond to your pitch. Many REI's and wholesalers use little to no demographic targeting following this strategy, but with such a large audience the math is often on their side. They typically automate the process to get their message to such a large audience, using tools such as ringless voicemails and auto-dialers.
Blanket targeting works by expanding your sales funnel – the idea being, the larger the funnel, the more prospects you have which may turn into leads and hopefully deals.

Advantages of a Blanket List
Blanket lists are quick and easy to make. In less than 5 minutes you can get a list of thousands of homeowners in your area or market. They also offer the audience size of a large list without paying top dollar for highly targeted property records. In other words, you don't have to spend your limited time researching what types of properties other people believe are the hottests leads, and pursuing the same few leads that dozens of other REI's are already contacting. You also don't have to spend extra money buying a small hyper-targeted list from a data company.
Blanket lists are a goldmine of untapped deal potential! Most REI's are not going after these properties and you can be sure that for many of the people in your blanket list who are motivated to sell their home, your pitch will be the first they hear.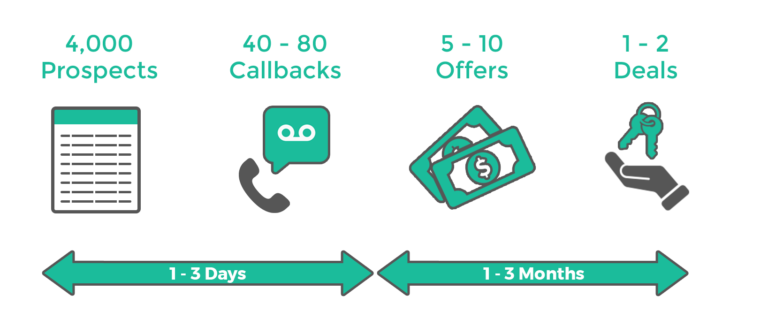 If all goes well, you may be able to nurture a small portion of your leads through the funnel while most of your leads will drop off throughout the following weeks and months of discussion, vetting, and offers.
How to Create a Blanket List
1. Login to your Datazapp account and enter the "Property Data" module.
2. Specify the geographic area in which you want records of properties and homeowners. For example, if your market is the area in and around Flagstaff Arizona, you can set Coconino County, Arizona as your geographic search area.
3. Choose what type of phone numbers you want – Cell phones, Landlines, or whichever is available. You can also get emails!
4. Select just a few demographic filters to narrow down your search, such as homeowners over the age of 50 or single-family homes. Selecting too many filters will bottleneck your search results and yield a small list.
5. You're done! View the number of records we have available in your area which fit the criteria you selected and purchase your new list. If your list is larger than you'd like, just toggle the number of records you choose to purchase.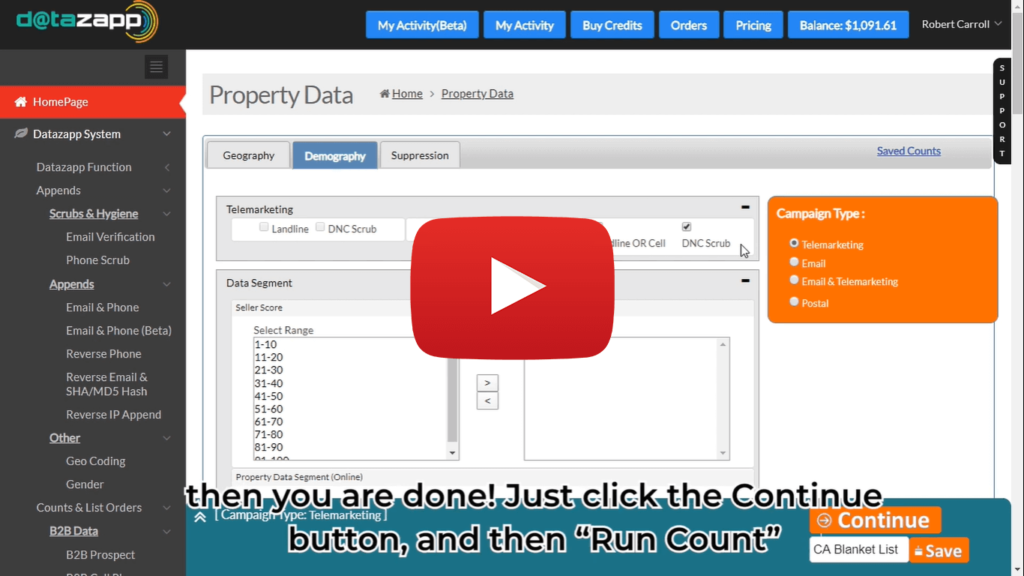 This 2 min. video walks you step-by-step through the process of creating blanket property lists in your Datazapp account!