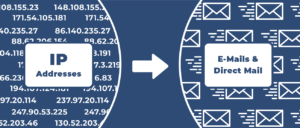 Datazapp is empowering digital marketers with a tool to identify and retarget website visitors using IP addresses.
The Visitor IP Insight tool helps website owners achieve online identity resolution – the practice of recognizing website visitors and matching those users with the contact info marketers need to send them relevant messages at each step of the buyer's journey.
"Our Visitor IP Insight tool is an ideal retargeting solution for any website owner who realizes the buying potential of their online visitors, but sees too many of those prospects leave without making a purchase or giving their contact info," said Datazapp.com founder Nirav Patel.
"This solution will put more online leads back into the sales funnel and ultimately boost  marketing R.O.I." 
The process is remarkably simple. A short string of code called a "Pixel" is placed on a website, where visitors' IP addresses are captured and matched with a nationwide database of over 300 million consumers updated continuously. Email addresses, names, postal info, and even phone numbers are synced in real-time to the user's dashboard on Datazapp's 24/7 platform. 
The Pixel is a one-stop-shop for the IP capture & data append process. But companies with their own IP technology in place don't have to scrap their current system. Those marketers can submit their site visitors' IP's directly to Datazapp over an API connection or by uploading Excel files.
For the last 12 years, Datazapp.com has served businesses with quality email and phone number appends, consumer (B2C) prospects, business (B2B) data, and quick turn-arounds. Now, their technology is helping digital marketers convert online leads in an ever-changing internet landscape. Information about their products and services can be found at their website www.Datazapp.com